Jason Vorrasi is Resource Furniture's Operations Manager and he recently attended the 2016 Orgatec trade fair in Cologne, Germany. He's shared his experience with us below, including the latest trends in workspace design.
***
I arrived in Germany the day before the Orgatec trade fair opened, which gave me the chance to recover from the flight and prepare for an intensive three days of exploration. With eleven pavilions and 671 companies represented at the fair, it's safe to say it was going to be huge.
On the first day of the fair, the weather in Germany was a chilly 12 degrees and so a walk over the Hohenzollern Bridge to the exhibition centre presented a good opportunity to "warm up". While distracted by the thousands of padlocks affixed to the bridge, it could have been very easy to be taken out by a push bike.
On arrival at the exhibition centre, I attempted to make a beeline to the stand of our Spanish partner, ACTIU, to explore their latest product range but it took at least an hour to navigate the maze of the pavilion. When I finally arrived at the ACTIU stand, I was greeted by our National Sales Manager Australia, Vicente, who was to take me on a tour of the 700 square metre display.
ACTIU's broader theme for the trade fair was "Cool Working", a philosophy based on the wellbeing and productivity of people in work spaces. When applied, this means creating 'spaces where we feel good and where we are more productive, creative and sustainable'.
As we began the tour, it struck me that the timber framed structure surrounding the ACTIU display had very few enclosing panels. The following quote brought the concept to light: "We put neither a roof over professionals or walls around teams".
The first new product range we viewed was TWIST, a flexible desking system utilising minimal components in cast aluminium and steel. Clever design allows it to be configured to a multitude of desking styles, from single desks to three way clusters to stand-height meeting tables. The design is all about versatility, which was demonstrated by its storage spine configuration where the working surface could be flip or rotated to any position (depending on a location hole availability) to suit the user's task.
The next stop on the tour was the EFit Chair. This particular style comes in a full family of chairs, ranging from the basic polypropylene gas lift education chair to the fully upholstered and ergonomic mechanical task chair. This model is the perfect combination of two popular seating ranges, the Urban Plus and Stay task chairs.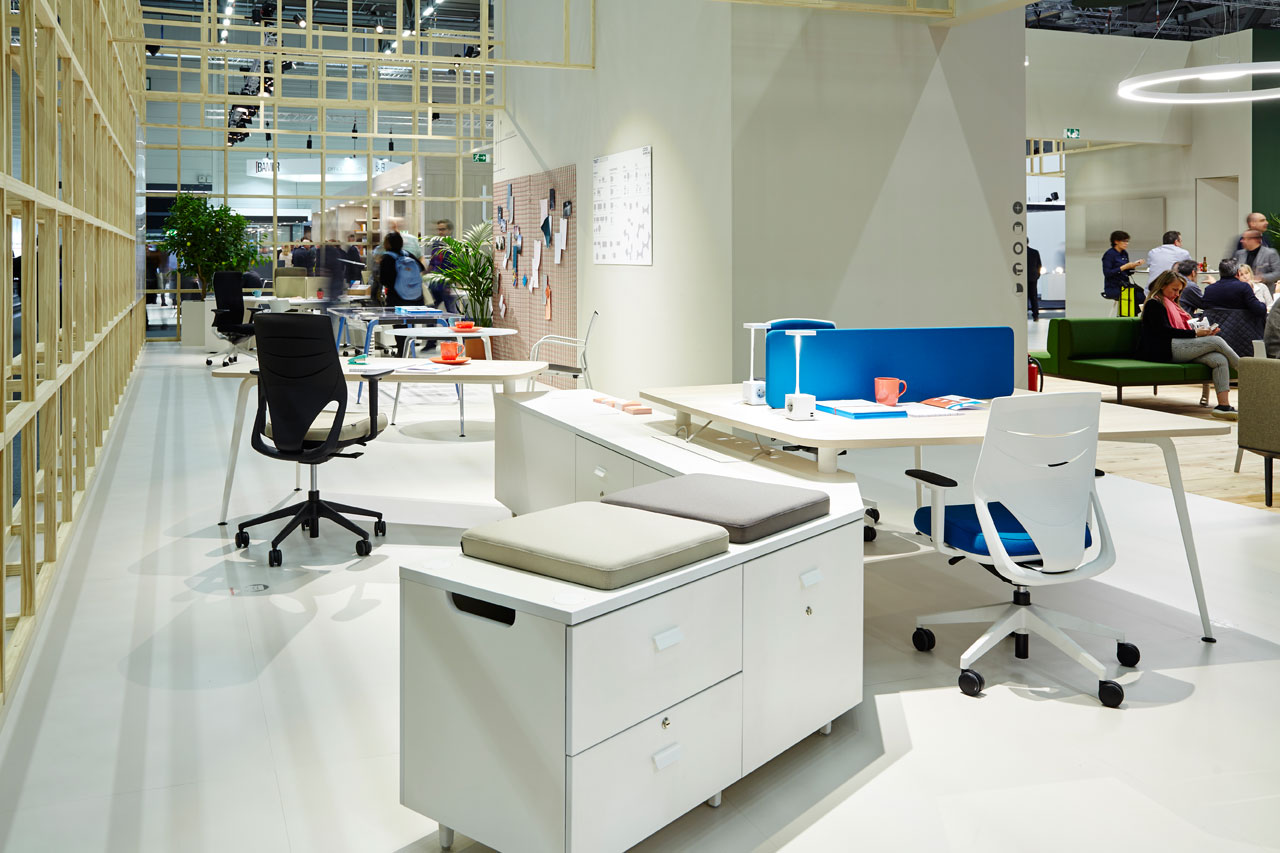 BEND, which we've previously featured on our Facebook page, is a flexible curved ottoman bench seat featuring a unique tapered curve and unobtrusive accessories. The configurability of this product is pretty amazing to see "in the flesh", so to speak.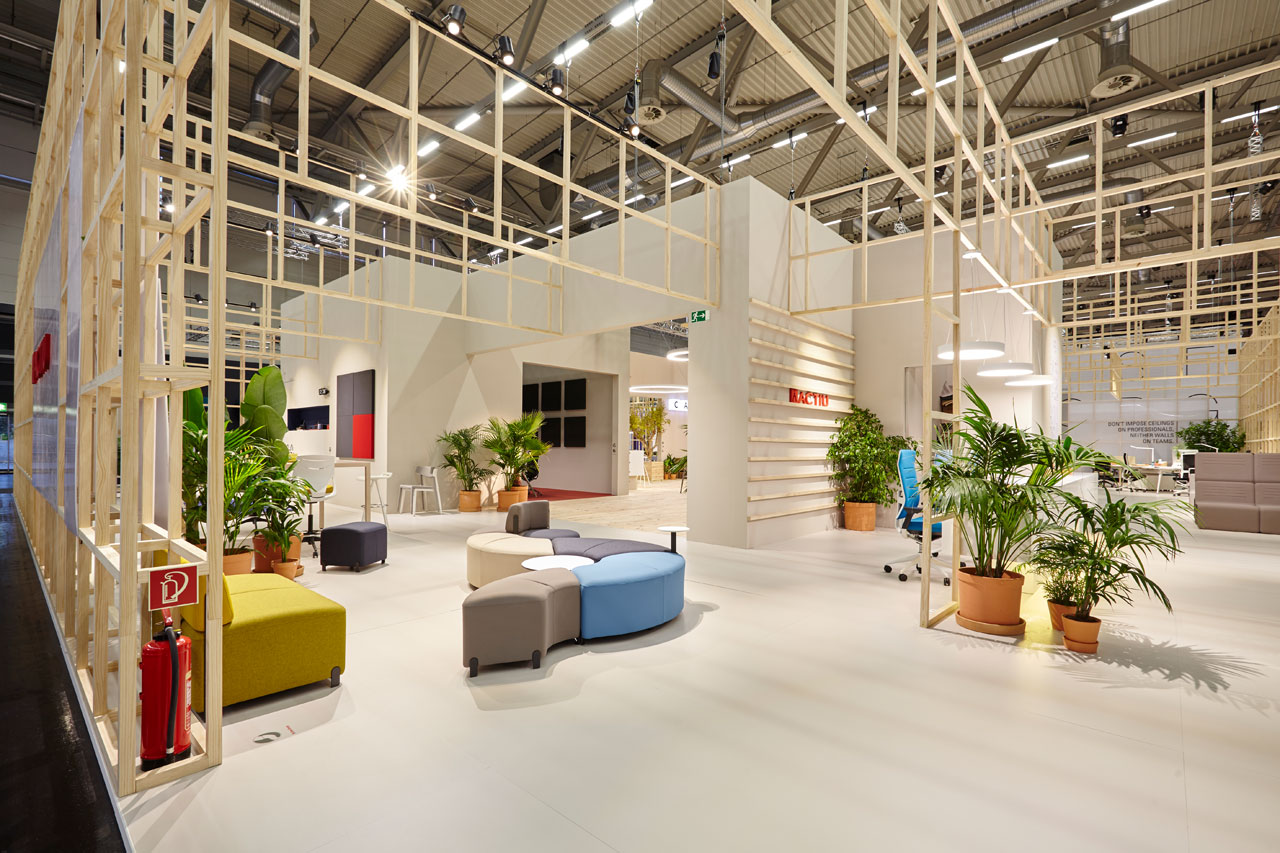 Other iconic products such as ACTIU's Badminton, Longo WING and TNK Flex were also in the mix. And the Prisma desk was displayed in a new standing-height configuration.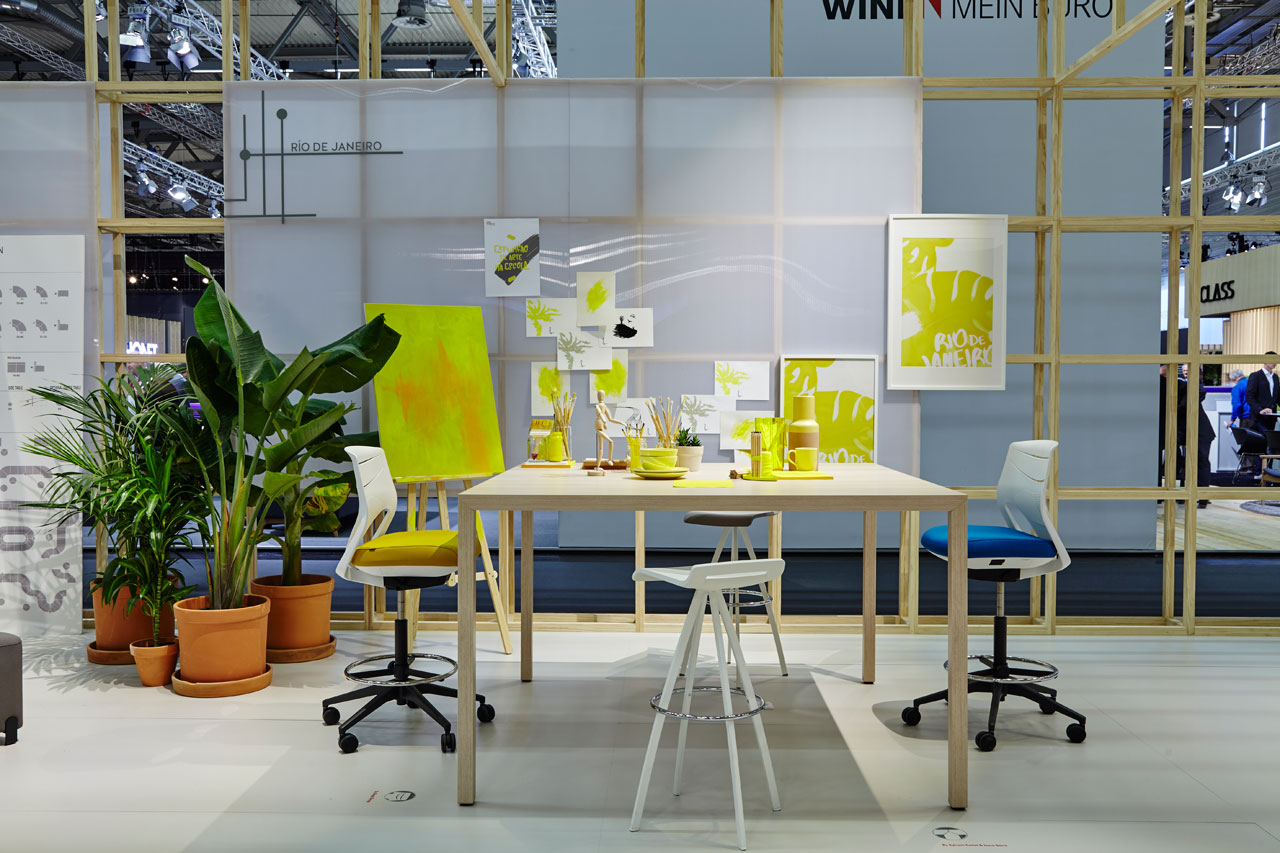 After completing the circuit of ACTIU's display, it was time to embark an epic tour of 11 pavilions!
Of particular note was Vitra's impressive display, which covered an entire pavilion and included products from key design partners.  The sheer size, scope of products and multi-layered representation of today's working world through new products made this a stand-out display.
The traditional task chair and desk were a common feature and there were few new trends apparent in this area. Variants of the sit-to-stand desk were on display along with some new portable/mobile work benches.
Collaborative soft seating, mobile acoustic screens, booth lounges and breakout furniture were recurring themes of the show with most exhibitors featuring one or more of these product types in their range.
A key characteristic of the booth lounges was the integration of acoustic panels and the benefit of sound absorption provided by the enclosed frame.
Japanese manufacturer, Kokuyo, presented an interesting concept called "Rolling Workspace Screens", which encapsulates an interesting aesthetic and mobility.
The current and increasing popularity of activity-based working environments means that furniture and accessories need to move, flip, stack or include some other flexible feature to complement these types of spaces.
Given the rising popularity of open plan working spaces, these clever mini phone booths and pop-up boardrooms allow for private conversations and meetings. We may be seeing more of these in the future!
It was apparent that natural timber tones aren't going out of vogue. They featured prominently in seating, tables and workstations.
In summary, Orgatec crystallised some of the trends to be aware of for the coming year, which are:
Collaborative working areas
Flexible dividing screens
No fixed working space, which in turn, means fewer limitations on how and where we work
Everything can be flipped, stacked and mobile